Portland Music Event- THIS FRIDAY *AMAZING Halloween Party* Monsters Like Techno Too- Lets Go Outside, Adlib, Sone, Bryan Zentz, MontsDe- Pumpkin Carving and Costume Contest.
Now since Technoca took over bookings at Sana's we have been working hard to just get some shows going, but this Friday we are going for it.... . . Two amazing rooms of some of the sickest, headiest beats in the Pacific Northwest.... We have HASS Sound to ensure crazy awesome sound, we will have Crazy decorations- WE ARE DECKING IT OUT, there's a pumpkin carving contest and a costume contest.. THE Theme is based around MONSTERS LOVING TECHNO .....so be creative.... ...... Winner of contests will receive Gift Cards, Reimbursement of door charge, and Free boos....
Goona be soo much fun...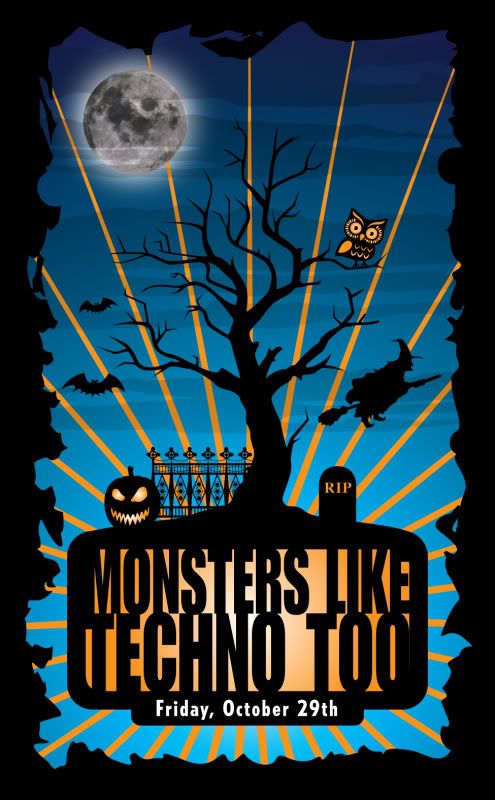 Friday the 29th - - Monsters Like Techno Too - -
Costume Contest-
Prizes

Pumpkin Carving Contest-
Prizes

ROOM 1

Adlib (People of Earth, Shameless) Seattle

DeafChild (Team Cowper)

Quillan (Merchants Of)

MontsDe (Technoca)

b0t23 (E.L.M.) Live Hardware Techno/Electro Set

Z-achxis




ROOM 2

Sone (From 0 to 1) Seattle

Lets Go Outside (Slant, Sleaze, Soma)

Bryan Zentz – (Plus 8)

Dave Levi (Fulcrum)

Sinesolder (Technoca, OM Style Recordings)

Chris Firenze (Akashik Records, Technoca)




Friday, October 29th 2010
Location:
Sana's bar
1195 SE Powell
Portland, OR
9pm-4am
Cost $7.00 b4 11:00.. $10.00 After.